I had no intentions of waiting this long to post, and on the offchance that someone out there is actually seeing this…sorry for the delay. I have had some wonderful stash additions in the last few weeks, including some beautiful fabric for a quilt for Nicholas.
The first pic is of Lady Scarlet's Secret Garden. I HAD to have this one and I'm so glad I got it because she's beautiful in person. But that's only where the trouble began…of course I needed new scissors to complete the stitching accessory venture…and what did my LNS have? Well, "Ladybug" scissors, of course! They're black and red DOVOs and I adore them! The handles are so nice and soft…it's a wonderful experience I must say! I also purchased a few more charts…these are a few. Sticking with the ladybug theme you will see the new LHN design…
I've also recently decided that I would like to stitch some needlerolls…so my first purchase was a Shepherd's Bush "Pansy Roll." I have also asked my LNS to order "Long May She Wave" for me.
Finally my last stash enhancement is actually coming to me tomorrow…I have a dear friend who is giving me 2 of her charts that I wanted and she has already stitched…Bent Creek's "Teacher Row" and… Lady Scarlet's Journey!!! I can't wait!!!!!!
Here's the pic of the quilt fabric…when it will be a quilt who knows, but it was just so darn cute that I couldn't resist!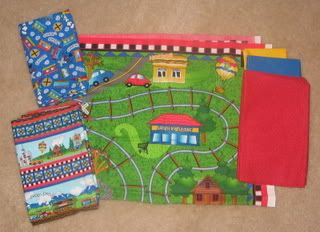 Also, we've finally had progress on our house. These pics are from the Thursday before Easter…so about a week ago. Today I drove by and there was a slab and they were digging out to pour the driveway. I hear that they might have the frame started by this weekend!

Hope you all are having a great week…I'm off to watch American Idol and stitch a little before bed…