Easter Bunny is on his way!
I'm loving being able to stitch something for myself. Between being finished with Wife's Prayer and having complete spring fever…I've started two (yes two!) Easter designs in the last 2 days! The first is Eggs by Shepherds Bush…pic to come later as it's in the car in my travel bag. The second is Easter Parade by Blackbird Designs. I'm currently working on the bunny pattern, but I do have the fabric and fibers already for the basket pattern…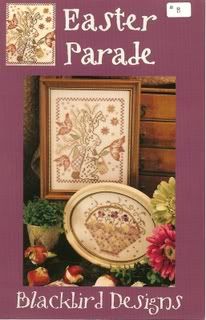 Obviously my fabric is not ironed yet! I'm stitching this piece in hand…mostly because I couldn't find my q-snap when I started it. It's a bit different than anything else I've stitched before, so I'm enjoying it!
On a completely opposite note…still nothing on our house! I'm completely desperate for something to happen on it! Hopefully this week!