fabulous cross-stitching happening here
Many of you have been reading me for years (thank you!)…and for those loyal few…you know that my first love in life (other than my husband and coffee) is cross-stitching.  A dear friend and her mom taught me in college…and well…the rest is history.
Blackbird Designs freebie sampler – finished ~2008
Over the last hand full of years, my stitching has taken a bit of a backburner as I explored quilting and knitting.  I love these new arts, but cross-stitching is definitely still my passion.
Country Cottage Needleworks "Geranium House" – finished 2009
Imagine my joy when all of a sudden…cross-stitching is becoming en vogue for us young crafters out there!  What?!?!
Alicia of Posie Gets Cosy has stitched for many years, creating patterns such as her Daisychain ABCs Sampler that has so many people in love with embroidery…and she's working on a new cross-stitch sampler that is yet to be released.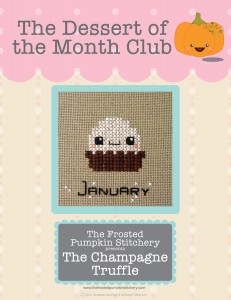 Amanda of hey porkchop! has a sweet little cross-stitch design company called The Frosted Pumpkin Stitchery and she has started a dessert of the month club.  For only $16.95 you get 1 sweeeeeeet little dessert pattern per month…what a deal!  There's a flickr group that is dedicated to these sweet treats, and there are some amazing things popping up in there!
Every year for the last 6 or 7 years, I start a new cross-stitch project.  This year, for reasons that I can only attribute to complete and utter insanity, I signed up for a Chatelaine Designs Mystery.  Martina creates the most beautifully, stunningly, most intricate designs that you've ever seen for cross-stitch!  The amount of thought and artistry in each design is astounding!  I am going to be working on the "Deep Blue Sea" Mystery Design (a section is released each month).  I'm still waiting on fabric and silks for this one, but you can rest assured that I will show progress pics just as soon as I get my supplies!
So, with the new, fun, and MODERN designs popping up out there…what's holding you back now?
disclaimer: I have not been paid by any of these lovely ladies/companies to promote their designs.  I purchased each chart/pattern I discussed here with my own hard earned money.  I'm pretty sure that none of them even know who I am…