Didn't I just do a post about all the new stash I had, and all the new starts? I swear I did…
Well, here's another one to add to the list. I got Fresh Watermelon yesterday, and after pulling the DMCs for it, I decided that I HAD to start it! It's just too gorgeous!
Here's the chart, for those who aren't familiar: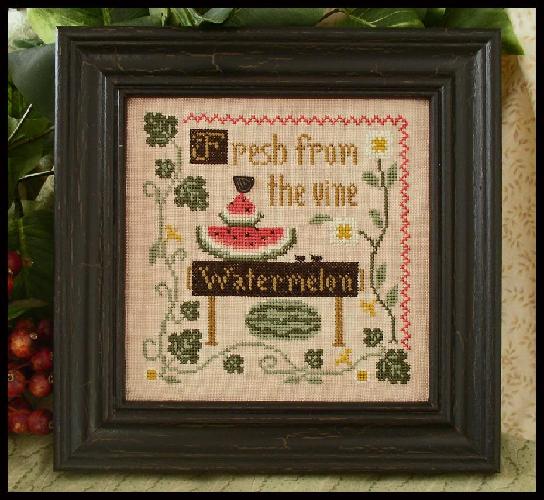 And here's a pic with my little tiny bit of progress and a shot of the fabric and fibers:
See?! I told you…gorgeous. I'm stitching it on the recommended 28 ct. Vintage Examplar Linen. A bit darker that I would have thought I would have liked (even darker than my picture shows) but it is STUNNING with the fibers. It's got a bit of the pink/rose color in the mottling, which totally matches the pinks in the watermelon! Perfect for summer!
So, this is what I'll be working on…now that I'm DONE WITH WORK for the summer! Well, I technically have to make it through the day, but it's graduation and I do get to leave a bit early.
What are you stitching on this weekend?