OK OK OK!!!! I've finally finished this project after almost 3 months! It's amazing how little stitching you actually get done with a kid in the house and working full time! And yet I still find the time to buy stash?! Anywho…here's the long awaited pic of A Wife's Prayer by Erica Michaels.
I'm also posting the picture of a framed finish that I finally got back from the framer. Nicholas is only 15 months old now! Better late than never!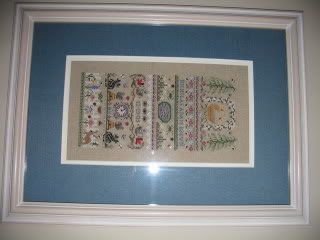 I was on the 123 board just a few minutes ago and noticed that someone else was working on O Beautiful also! I'm now aching to work on this one…and then maybe something less patriotic for a while…Different color scheme for a change!
Happy Stitching to all!