Well, I haven't dropped off the face of the earth…just dealing with my crazy life

Hope that everyone had a wonderful Christmas! Between my son's birthday on December 19th and Christmas 6 days later, I can definitely say that we have had our fair share of present opening at my house!
I wish I could say differently, but all of the WIPs that I last posted in June are still WIPs. That's really sad. Of course, I've probably finished about 8-10 other things in between. Unfortunately it's always the big things that never seem to get done and the little things for quick satisfaction get done more often.
Going back to my previous posts from the summer, I definitely did not stick to my 25/50 goal…and in the spirit of brutal honesty, I'm not going to say that I'll do it for next year either…because that's really just foolish. Instead I'll talk about the things that I'm hopefully going to finish. I do want to finish some unfinished projects this year. I just don't plan on not making purchases in the meantime!
Here's a pic of the latest thing that I'm trying to finish: the Shepherd's Bush ornaments from all of the ornament issue mags. I've finished 6 of the 8 and I'm almost done with 7. I have 3 of the 8 charms…those will be purchased slowly as they're a bit pricey.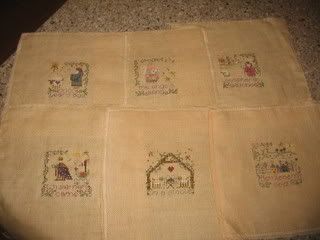 I plan to start a new project on January 1st. This year it will be the Red Thread series by Bent Creek. I've been purchasing the charts as they come out, and I've had the fabric for months, but I figured that this would be a good time to get it going. Also, probably tonight or tomorrow I'm going to begin the Lizzie Kate "Doubles" series.
That's it for now…