OK, sadly, I've been experimenting with blogging for over a year now, and I've finally just gotten the guts to "advertise" to a few people that I'm actually doing it! And I've also gotten my first comment (thank you Martha)! To answer your question about how to finish my ornaments…I'm not sure yet. I, like you, would love to have them framed…in my head I've been dreaming about something similar to how they're framed in the SB chart "2000 Years Ago" only with 8 rather than 4…but I've also been thinking about making ornaments out of each of them and then putting them on their own small ornament tree each year. But then you wouldn't have the effect of reading the full verse…Decisions, Decisions!
I also worked on the LK border last night…I made myself at least start it, so here's what it looks like so far: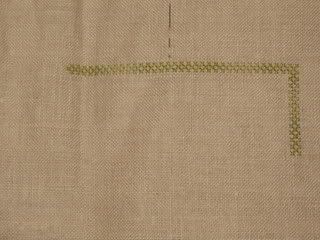 Nothing amazing yet, but it will be nice to have it going early this year. This is the type of project that I always like the look of, and love, and buy everything for…but never actually stitch it!
Tomorrow I'm driving to Louisiana and spending some time with family, but I do plan to also start my Red Thread project…
Happy New Year!!!