Well, I'm doing OK on my personal goal for the 25/50 Challenge. I started this…mentally, I might add…on May 1 and I have finished 6 projects. I must admit that I have cheated twice already, so I'm not doing GREAT, but I have "forced" myself to finish stitching some things that were started quite a bit ago.
Now, here's the newest WIP info…
First is Quaker Samplings I by With My Needle. I'm using the recommended 32ct. Maple Sugar from Lakeside, but I'm using DMC 115. I love both of these items, and have enjoyed stitching with them.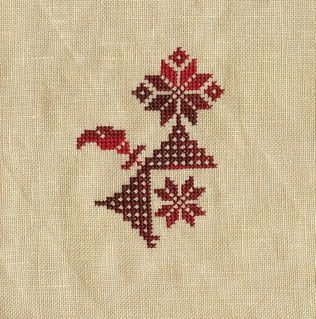 My second newest WIP is the Angel of Peace Christmas Stocking by Birds of a Feather. I bought this maybe two years ago with linen and fibers, and hadn't started it, so maybe this year I will have one of the two ready?!?
Wishing everyone much happiness in their stitching and their lives this week!